Our bedrooms
Choose the best room for you
Hotel 900 was completely renovated in 2012, built within an art nouveau style villa that was originally erected in the 1920's. Today, this beautiful family home has returned to its ancient splendour.
Hotel 900 is minutes away from Giulianova's sea front and town centre. Whether you're visiting us for work or leisure, we are sure Hotel 900's elegant atmosphere and attentive staff will win your heart and meet all your expectations.
Our attic rooms, each with a contemporary and unique style. The light colours, Velux curtains and windows deliver a functional design while creating a cosy and welcoming atmosphere.
Flawless and refined rooms, each individually decorated. An intimate and comfortable atmosphere for a special stay.
Our Deluxe rooms have an ample and bright ambience, with natural colours and a clean cut interior design for best comfort.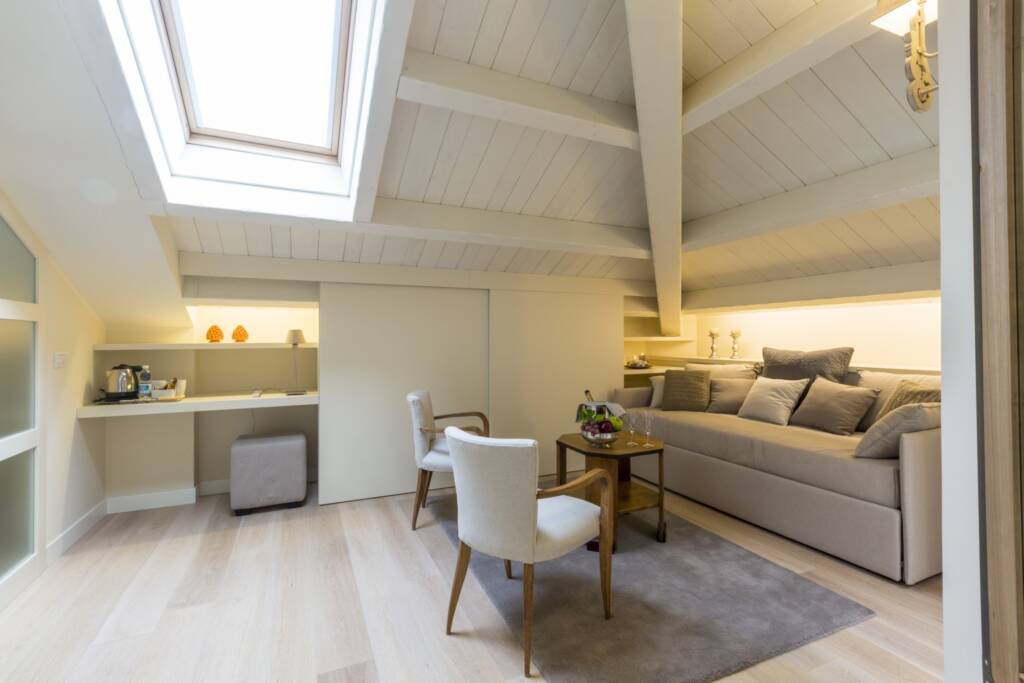 With a refined and graceful ambience, our Suite is comprised of a charming sitting room and a delicately painted bedroom. Elegantly designed and styled with soft colours, it is the perfect setting for a relaxing stay.
Our family suite is more than a room: it's a bright and generous space complete with large living room and kitchenette on the ground floor. Upstairs, you can find a spacious mezzanine hosting the self-contained sleeping quarters — the perfect layout for a family holiday!
Sometimes disconnecting from the outside world can be extremely relaxing and invigorating; if that appeals to you, choose the "Turret" , the highest room of the hotel. You can access this classy, cozy environment through a little stepladder with all amenities at hand: a romantic stay.
The adjoining rooms, available on each floor, are ideal for families up to five members. Parents have the option to keep the children's room locked from the main corridor while keeping easy access through the adjoining door. This way, the two rooms become similar to a Suite, allowing guests to stay close to their children while retaining their own personal privacy if desired. All rooms maintain their own private amenities, and can therefore act as separate bedrooms as well.